Electric VLSI Tutorials from CMOSedu.com

Electric at CMOSedu.com (examples, downloads, links, etc.)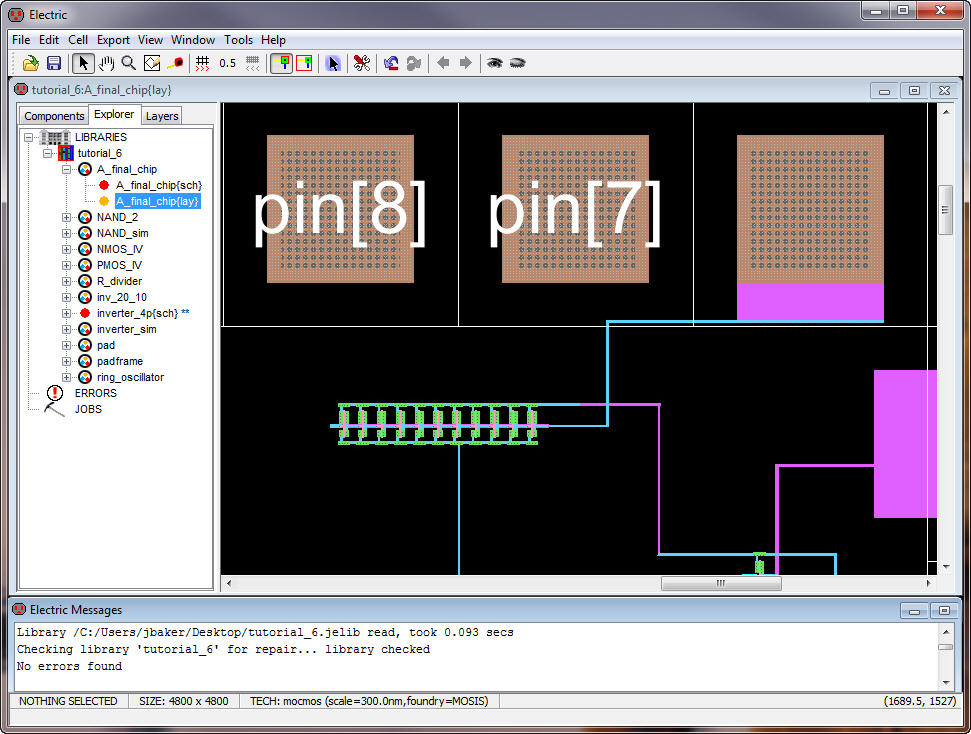 ---
Below is tutorial material that was generated with an older version of Electric that may still be useful.
Videos introducing both layout and Electric:
Electric_video_1 (17:42) – drawing a basic inverter schematic, CMOSedu_1.jelib, inv_20_10.spi, and inv_20_10.sp (HSPICE) (save MOSFET models, C5_models.txt, to the C:\Electric directory)
Electric_video_2 (23:38) – more inverter schematic drawing, CMOSedu_2.jelib, inv_sim_1.spi, and inv_sim_2.spi
Electric_video_3 (34:55) – layout of an inverter (DRC, ERC, LVS [NCC]), CMOSedu_3.jelib, Inv_20_10_sch.spi, inv_sim_lay.spi, and inv_sim_lay_no_parasitics.spi
Electric_video_4 (15:09) – adding separate connections for power and ground, CMOSedu_4.jelib and inv_sim_conn_1.spi
Electric_video_5 (09:52) – drawing the schematic of a 21–stage ring oscillator, CMOSedu_5.jelib and ring_osc_sim_sch.spi
Electric_video_6 (19:06) – lay out of a 21–stage ring oscillator, CMOSedu_6.jelib, ring_osc_sim_lay.spi, and ring_osc_sim_lay_with_parasitics.spi
Electric_video_8 (18:30) – lay out a poly1–poly2 capacitor and an RC circuit, CMOSedu_8.jelib, RC_sim_sch.spi, and RC_sim_lay.spi
Electric_video_9 (24:25) – drawing the schematic and icon of a NAND gate, CMOSedu_9.jelib, NAND_2_sch.spi, and NAND_sim_sch.spi
Electric_video_10 (28:33) – lay out of a NAND gate, CMOSedu_10.jelib
Electric_video_11 (28:15) – drawing the schematic and laying out a NOR gate (no talking, just music and the sound of connections!), CMOSedu_11.jelib
Electric_video_12 (10:50) – brief introduction to IRSIM and ALS (asynchronous logic simulator), CMOSedu_12.jelib
Electric_video_13 (11:33) – brief introduction to using HSPICE and LTspice with Electric, CMOSedu_13.jelib
Some random videos; the jelib used in these videos is here.
Electric_4_1 (3:52) – Setting the right scale factor when opening libraries
Electric_4_2 (2:54) – Create new libraries using objects (schematics/layout/icons) from other libraries. Moving objects between libraries.
Electric_4_3 (15:33) – How to create and use icons and use them in schematics/SPICE.
Electric_4_4 (4:50) – How to create a new version of a cell
Electric_5_1 (6:04) – Layout of an n–well diode and making an icon view
Electric_5_2 (11:09) – Schematic and simulation of an RC circuit using an n–well resistor
Electric_5_3 (12:15) – Layout of the metal layers and a pad
Electric_6_1 (2:51) – Layout of a pad that contains metal2 and metal3
Electric_6_2 (2:33) – Layout of a padframe
Electric_6_3 (9:04) – Layout of metal1, metal2 pad and overglass
Electric_7_1 (11:26) – Making substrate connections
Electric_8_1 (10:20) – Layout of an n–well resistor and sizing it for specific resistance
Electric_8_2 (11:37) – Layout of a poly1 resistor with contacts to a resistor using bondpads
Electric_8_3 (5:28) – Layout of a p+ resistor
Electric_8_4 (2:20) – Layout of NMOS and PMOS transistors
Electric_8_5 (7:26) – Connecting transistors together
Electric_9_1 (15:54) – Schematic and layout of an inverter
Electric_9_2 (5:04) – Layout of an ring oscillator
Electric_9_3 (5:27) – Layout of a long L MOSFET
Electric_10_1 (4:26) – Quick guide to laying out a long–L device without LVS error by creating an icon
Electric_10_2 (2:13) – How to layout a 4–to–1 divider using four 10k n–well unit cells
Electric_10_3 (22:26) – Layout of a poly1–poly2 capacitor, icon, an RC circuit
Electric_19_1 (11:50) – 3 terminal and 4 terminal MOSFET symbols, when to use, some SPICE simulations
Return to: